Newest Blog
Organizing Open Shelves with Goodpick
Aug 19, 2022
One of the most common requests I have is for storage in the main living area for kids' toys that is both functional AND attractive. It's difficult, if not impossible, to keep all of the kids' toys out of the common areas of the homes, particularly when they are little. I would even argue that their toys should be allowed in those spaces since it's their space too. However, that doesn't mean they have to be displayed like décor pieces either. The best solution to tucking away items that you need easy access to - but don't necessarily want to see - is to use closed storage solutions. Now the question becomes how to do this in an attractive way.
In a living room space, you can use storage ottomans, closed media cabinets, lift top coffee tables, and bookcases. One of my favorite ways to add storage to an open bookcase is by using baskets.
I partnered up with Goodpick, a home goods company that offers a wide variety of baskets and other storage items and they sent some of their Black Jute Cube Storage Baskets for me to style. I've been searching for a better solution to the baskets we had previously - which were not quite the right size for the shelves (and honestly not that nice to look at) and these work perfectly!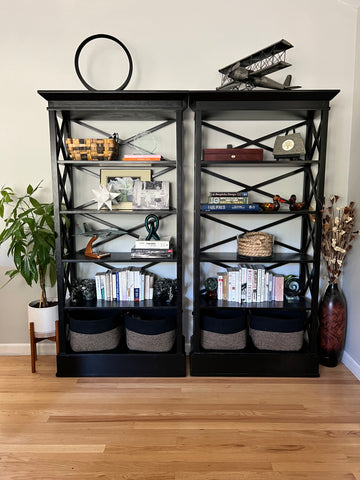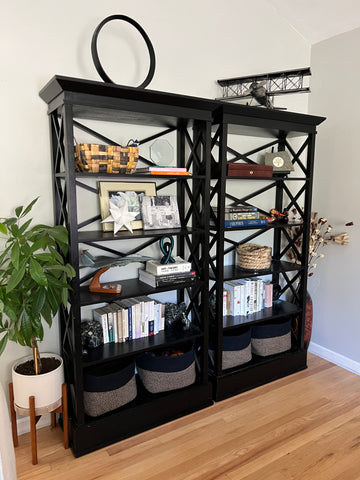 When I'm styling bookcases, I like to fill the lower shelves to create visual weight at the bottom, which creates balance. Using baskets not only adds to this visual weight but also provides essential closed storage that open shelves lack. They are small enough that they would work on most shelves, but still large enough to be functional and work for toy storage.  If you don't need to store toys, these can also be used to store chargers, cable cords, hand weights, fitness bands, dog toys, craft supplies, etc. They could even be left empty and simply provide visual balance to your shelves.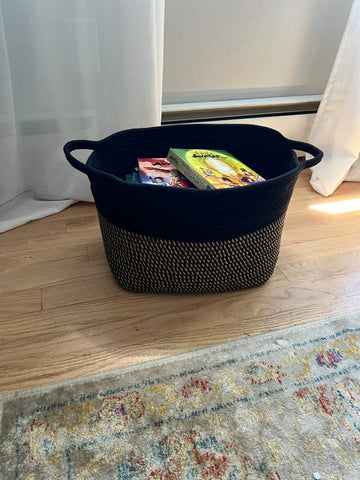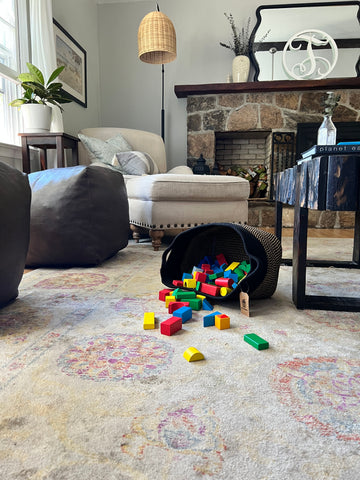 I love the mix of black and tan in this option, which is a more modern vibe than a plain jute basket would have, and it ties in very well with the black bookcases.  They are also available in a few other colorways, so if the black feels too jarring for your space, you could grab the tan/white, blue, or grey/white instead.  The quality is excellent - they feel very sturdy and durable, while still being lightweight.  They do ship folded, but I didn't have a problem getting them reshaped – they recommend either stuffing with a towel/blanket or just a warm iron.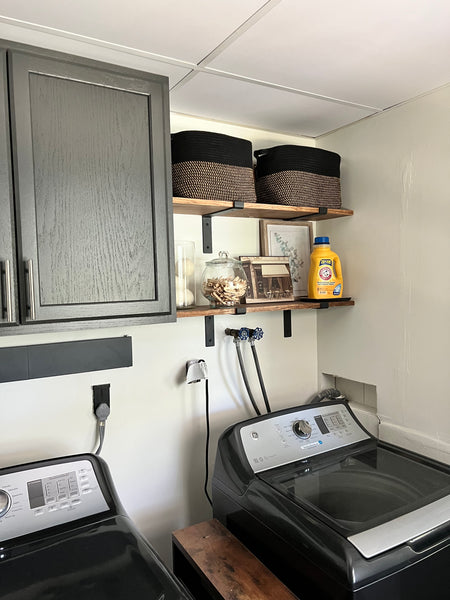 Baskets are a great way to add closed storage to any open shelf option, such as the laundry room or an entry way so don't limit yourself to only using them in bookcases.  They can also be used in a closet to help organize small items, such as medicines or toiletries. 
Ultimately, there is a reason baskets have been used for storage/organization for centuries – they're a versatile and beautiful solution no matter where you use them!