Our Hunt Club Cottage Renovation may still be under way, but that hasn't stopped us from organizing our new home! From bedrooms and closets, to bathrooms and kitchen cabinets, we've been busy getting our things organized within each space. One way we're keeping our kitchen organized is with our new Goodpick Storage Drawer Organizers.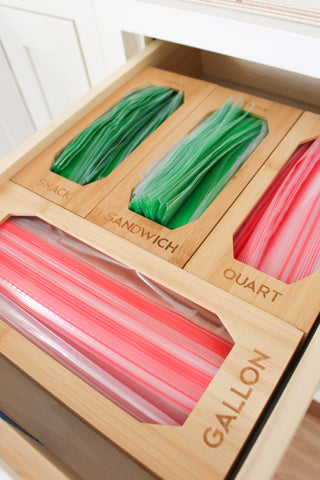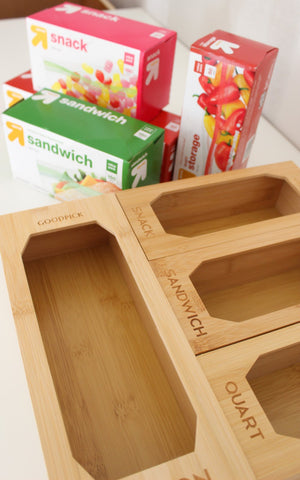 The key to a clean kitchen is organization, and the Goodpick Storage Organizers are a perfect start to getting your kitchen organized. The Goodpick Storage Organizers are a beautiful, and clutter free option for storing storage bags in your kitchen drawers. The drawer organizer set is designed for food storage bags, including 1 gallon size, 1 quart size, 1 sandwich size and 1 snack size. These organizers are compatible with most competitive name brands from Ziploc, Hefty, Glad, GreatValue and more and can hold a large quantity of bags with ease.       
I love a clean and crisp aesthetic in my home, which is one of the reasons I chose to upgrade from the cardboard boxes to the Goodpick Storage Organizers. The organizers are made of bamboo material making it durable and sturdy, while also providing a clean and minimalistic design. Not only are they beautiful, they also have detailed, laser engraved letters to help classify each container size. These organizers make it so easy to open and close kitchen drawers, which prevent cardboard boxes from getting caught and eliminates clutter within my kitchen drawer. The wide opening within each box makes it easy to load storage bags and remove them. The best part is there is no assembly required. The handcrafted drawer organizers come fully assembled, which means no glue and no hassle! Get organized as soon you receive it. Say hello to kitchen organization and goodbye to clutter!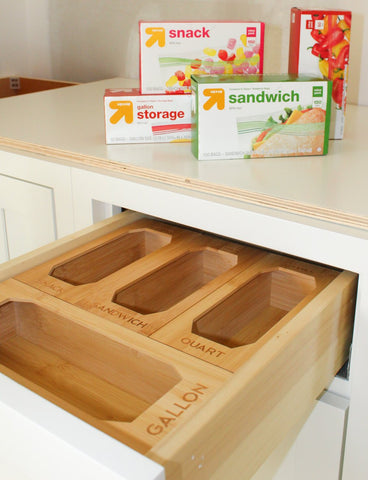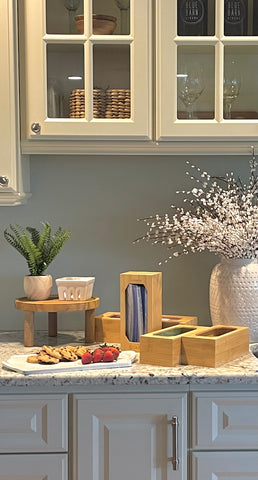 Getting your kitchen organized can be overwhelming, but not when you know where to start and what to use. With the right organization products, you can create a clean and functional home one step at a time. If you love a clean and organized home like me, you'll want to start by checking out these awesome storage organizers for your first step to an organized kitchen. You can also check out more ways to organize your home through the Goodpick website.
If you love a clean, organized kitchen like me, tell me more in the comment section below. If you enjoyed this post, share it with your friends and family! For more home renovation and design tips, subscribe to our newsletter to stay in the know, in the square.