Newest Blog
Organizing Kitchen Drawers with Goodpick
Sep 29, 2022
As many of you know, one of the biggest projects we have undertaken in our home is a full kitchen remodel. We had to complete the project on a tight budget, which resulted in not having a lot of the cool cabinet storage built-in options available in most designer kitchens. What does this mean? Simply that I have to find third party options to organize the interiors of my drawers/cabinets - no nifty pull-outs/inserts here! Why is this good for you? This means you can utilize all the same storage solutions I have found, without having to tear out any cabinets!
There is one drawer in my kitchen that absolutely drives me bonkers - it is the baggie storage drawer. The boxes never seem to fit in right and they get torn, blocking the drawer from opening fully. My kids are in there every day getting bags for snacks/lunches and it just turns chaotic very quickly. (BTW - I tried reusable bags and they never make it home, so they aren't an option right now… I did find some awesome compostable plastic bag options that I am starting to switch to be more sustainable.)
I partnered up with Goodpick, a home goods company that offers a wide variety of baskets and other storage items and they sent me the Bamboo Food Storage Bag Organizer that they carry for me to test out. I was a little nervous at first because online it looks like one large unit - and I wasn't sure it would fit in the drawer. However, they are four individual boxes, which is perfect because that means you can rearrange them or just use the sizes you need. This also means you can pull them out of the drawer like a regular box if you need to have them more accessible (like if you're doing meal prep).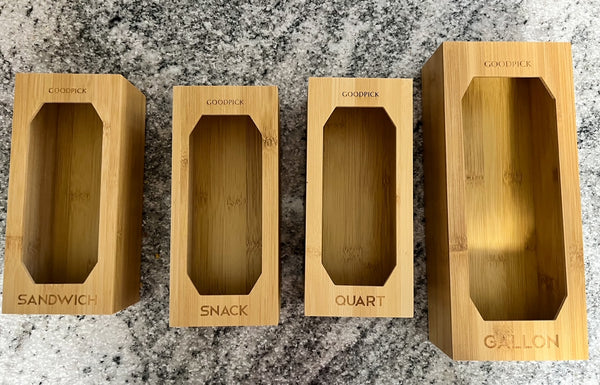 They are a very nice bamboo material, as advertised, and I love that the size of each bag is engraved on the box so you don't need to worry about it rubbing off. The bamboo also makes them very lightweight, so it won't weigh the drawer down.
As you can see from this after photo, this is so much better organized and accessible than what I had before - and I don't need to worry about any cardboard popping up and blocking the drawer from opening. They're also large enough to hold multiple boxes, so I was able to clear out some space in my pantry where I was storing the reserve. An added benefit that I didn't even consider is that because I can see the contents so much easier, I can better track when we are running low on a certain size - no more empty boxes just sitting in there taking up space!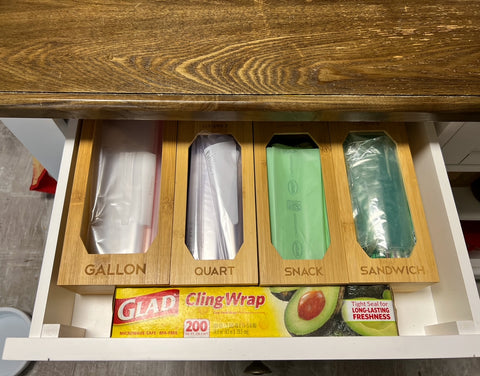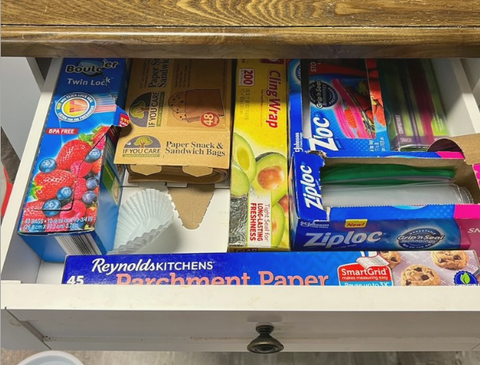 Let me know what you think about these organizers? Would you try them in your home?