This spring has brought about a bunch of changes in our home.  As we upgrade our spaces around our home, I first ask myself several questions.  Such as how can I clean up the space?  What will make these items easier to use?  How can I make the organization fit within my home style?  Goodpick has great rope baskets that I am honored to have been gifted to help with my organization around my home.
Living Room
My living room is one such place, pillows are a contention in my home.  I love the look of pillows on my couch and the comfort of them.  However, not all my family agrees.  Some are of the opinion that pillows belong on the bed and not on the couch.  This large rope basket is the perfect way to put out the pillows and provide a storage solution when they crowd the couch.

The rope design and durability of these baskets give a hint of style to your room with organization.
Bathroom
These baskets have so much functionality from closet storage to laundry or linen to stuffed toys.  The laundry basket with knotted handles is a slim look with so much it can hold.  I found it can be a great addition to my main bath for those discarded towels.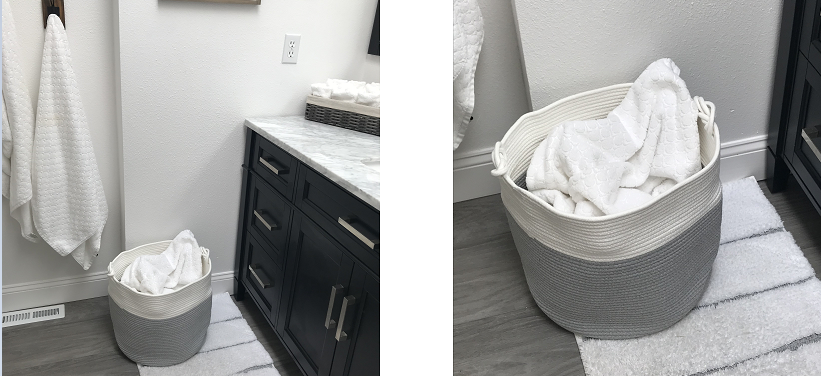 Anything to encourage the kids to keep their bathroom clean when it is the one shared with guests.  The darker grey bottom is a perfect mix to blend with my room and not show the dirt from the floor.
Laundry Room
It is so versatile it can also be the go-to basket for the easy load of sheets out of the laundry room.
An easy to grab handle with ability to carry multiple sets of sheets back to those beds with the added benefit if it needs to be washed with the laundry it can.  With four kids, we have a lot of beds to change each week and having a basket that can handle the load has been a lifesaver.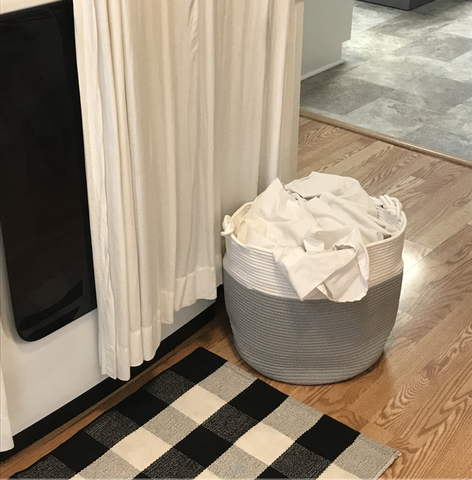 As you start out a new school year or transition into the fall needing more organization.  Check out these rope baskets for your next room upgrade.  The natural and neutral tones will be an added benefit to your new storage solution.  We have started using them and have been impressed with how well they fit our busy lifestyle while adding a touch of elegance to our home.